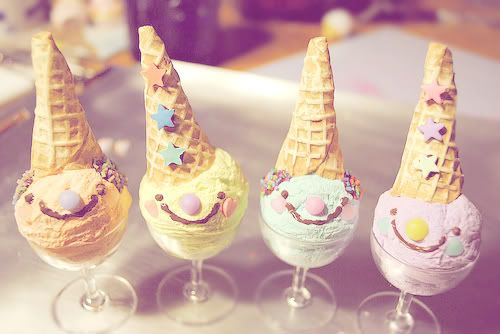 Well, isn't this a creative way to present ice-cream? I accidentally stumbled upon this photo just a few hours ago, and thought I might share it with you guys. Looks so cute too, with the stars and smiley faces. I'm really going to start making ice-cream this way now, especially since summer is approaching.

Speaking of ice-cream, a friend of mine and I made lamington ice-cream recently for a school assignment before the holidays. I hear you ask, what's lamington ice-cream? Well, it's simple. It's lamingtons with vanilla ice-cream and bam, lamington ice-cream! Unfortunately, I didn't take any photos of it while we were making it, but when I make it again, which I'm sure I will, I'll post some photos up here.

On other matters, I am now enjoying the holidays. At last! And so I've been having a lot of free time on my hands, which is just great. I really, really needed this break from all the projects and assignments, and it has finally arrived. I went to Royal Melbourne Show with a couple of friends on Monday, and we really had a great time, like every other year. I went on four rides and actually won something this year. I shot some hoops (got 4/5 in), and got myself Kermit the Frog. It was a lovely day that Monday, followed by a lovely week.